---
The Finery is located in eastern Waterloo, forming a strong gateway to the Lachlan Precinct, part of the Green Square Urban Renewal Area. Previously an established industrial suburb, Waterloo is currently undergoing rapid change including a mix of residential, commercial and retail development, and the architecture of the development responds to the site context in two ways: strong protective forms balanced with delicate fine grain buildings which provide a socially cohesive community allowing residents enhanced private amenity within a vibrant and connected precinct.
The architecture of the buildings lining the major roads, Lachlan Street and Gadigal Avenue, is characterised by the larger buildings, with a strong and civic materiality and detail of a rhythmic facade, utilising face brickwork and deep window recesses. A strong corner statement is emphasised through an increase in height and a lightbox brise soleil element. Footpath awnings along Gadigal Avenue enhance the public domain by providing shade and weather protection, softening to a human scale.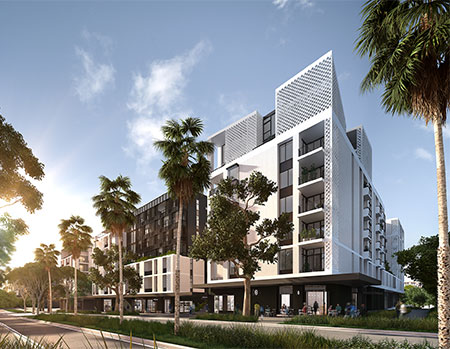 ---
The smaller residential buildings form an accessible and human-scaled environment appropriate to the character of Tung Hop Street and Lachlan Place, creating a village atmosphere. These buildings have a contrasting character and materiality, emphasising the change of scale and nature of the street types.
The fragmentation of development across the site, and the incorporation of densely-planted green zones between the buildings, allows for a varied and textured street environment with a human scale.
The mixed use development is a group of five buildings, each of which responds to its immediate context, heritage, materials and the massing references the history of the area and encourages the idea of the building having developed over time.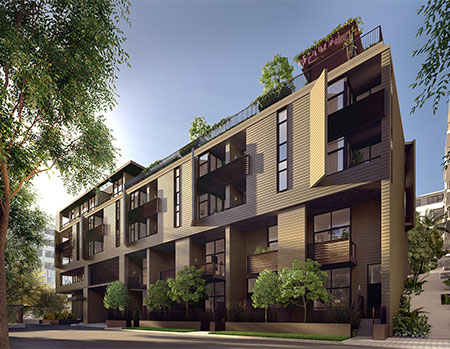 ---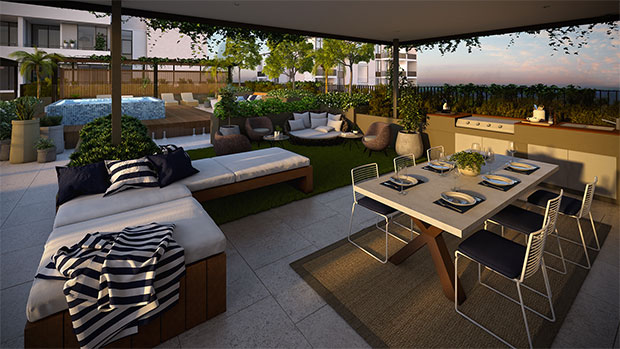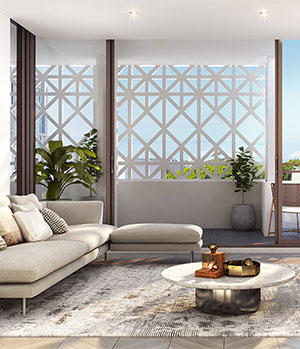 ---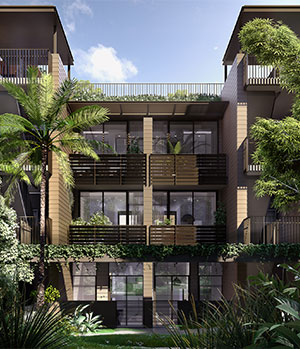 An internal, communal courtyard is connected to the public domain via 'green steps'. The raised communal courtyard and ground floor landscaping provide increased privacy, improve the micro climate, improves air quality and contributes to diversity.
At ground level, the architectural language is subtly different from the apartment levels above, with the use of framed openings to shopfronts, increased glazing and multiple entry points, to create activation of the street frontage. Materiality is also slightly varied, with a darker colour and different gloss finish. The ground floor retail breaks down the division between public and private and creates public participation in the interior of the site in such a way as to protect residential amenity.
---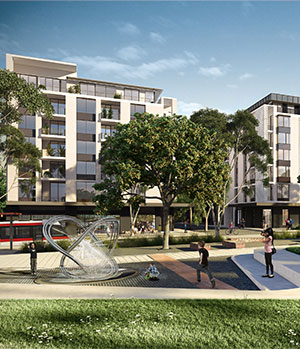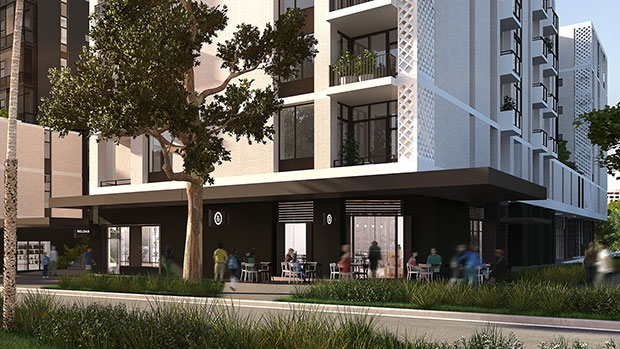 ---