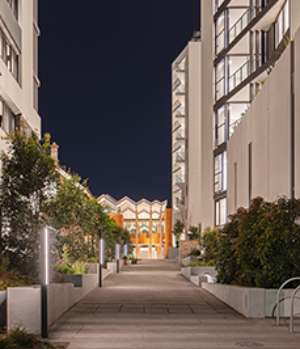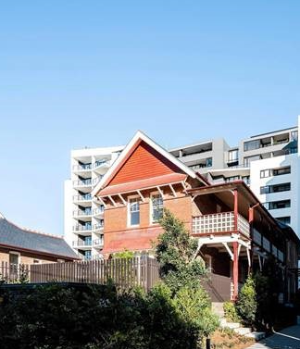 ---
The revitalisation of the former Marrickville Hospital site in Sydney's Inner West reimagines urban life in a way that is quintessentially Marrickville. That is, sustainable, local, community-focused and authentic.
A well-resolved ground plane seamlessly integrates two residential buildings with adaptive reuse of heritage fabric, public green spaces and a landmark Council Library and Pavilion, which were designed by BVN and delivered by Mirvac.
The residential architecture of Marrick & Co, designed by Mirvac Design in collaboration with Tonkin Zulaikha Greer, delivers a diverse mix of 225 apartments and terraces, including affordable housing units and two luxurious whole-floor residences within the meticulously restored former Nurses' Home. The project was completed in July 2019 and has been recognised as the first One Planet Living Community in NSW.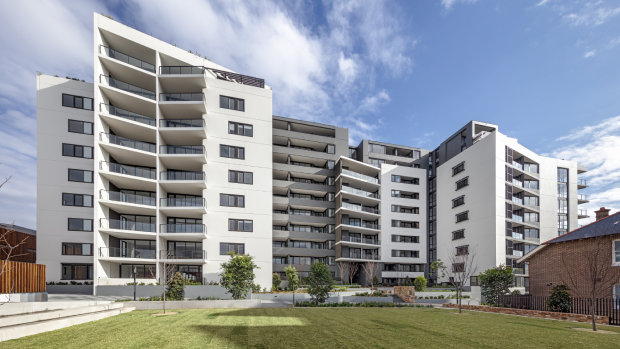 ---
Form, space and ambience reflect Marrickville's unique spirit to appeal to a new generation of Inner West residents. A varied skyline and diverse solutions echo the character of surrounding streets. Massing is minimised on Lilydale Street via a two-storey terrace base, with two setbacks above.
Prominent white chevrons play with light and shadow to articulate façades and continue the geometry of neighbouring rooftops and the library's sawtooth roof.
Materiality reflects the area's history. Face brick is used in the base terraces to tie them in with their heritage neighbours and streetscape, while reclaimed site bricks are used in a wall feature to carry history through the heart of the site.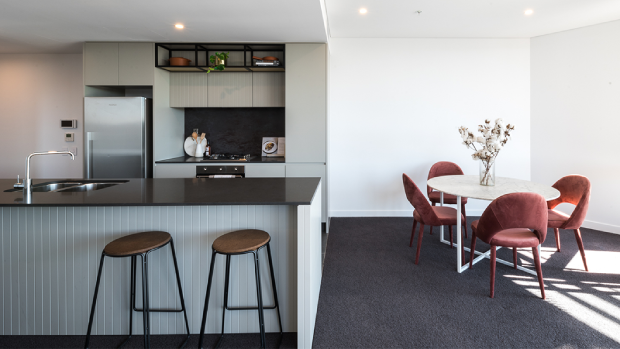 ---
Through heritage adaptive reuse and recycled/repurposed materials, more than 95% of the development's construction waste has been diverted from landfill.
Apartment and terrace designs maximise natural light and ventilation, not just to reduce energy costs, but to make people happier.
Of 7000 new plantings, at least 50% are native or drought-tolerant, designed to provide significant new biodiversity, and all are watered with rainwater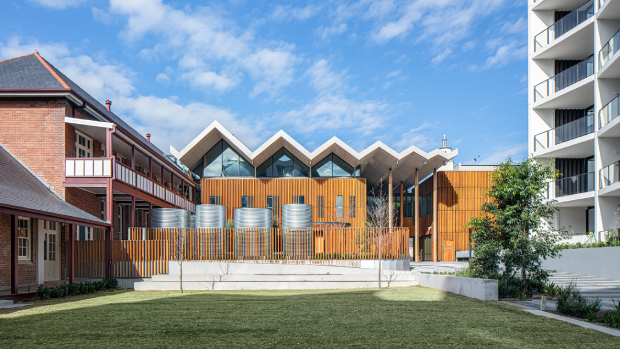 ---
Collaborative consumption is encouraged with a bulky goods store, book-swap library on the reading deck, and tool library. The Residents' Garden, rooftop kitchen garden, barbecue area and pizza oven encourage people to grow their own food and prepare nutritious meals at home.
On completion of the development, Inner West Council Principal's Representative & Project Director, Ian Hosking, wrote: "What was once a neglected former hospital is now a destination of civic pride. A place for residents, locals and visitors to live, connect and thrive. And most importantly, it is a blueprint for future development that's sustainable, imaginative and community focused."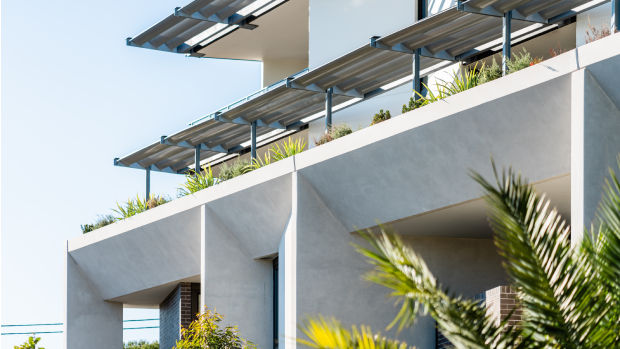 ---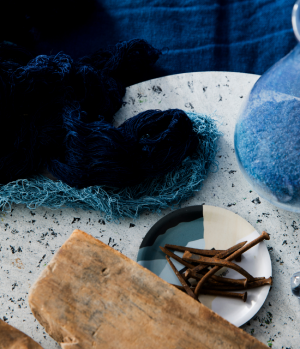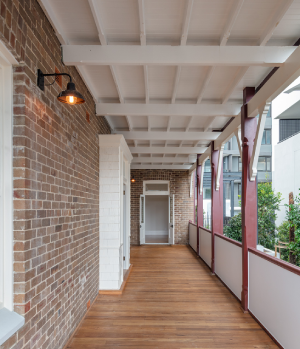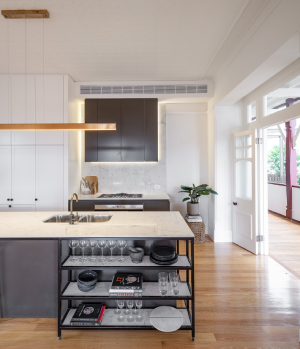 ---