---
Chevalier is located as a gateway into the precinct at the heart of the former Harold Park Paceway redevelopment. The site has been developed by Mirvac into a revitalised residential community with extensive public parklands and the former Rozelle Tram Depot, now sensitively conserved and re-purposed into the destination food and community precinct known as Tramsheds. Through careful analysis of the terrain, history, topography, orientation, movement of people, streetscapes, views and relationships to Glebe, Chevalier builds upon the framework of the Harold Park masterplan and integrates the apartment building into the context of this distinctive neighbourhood.
The core conceptual ideas of the architecture have been derived from the close relationship with the Tramsheds, the character of the adjacent terrace built typology and the dominant escarpment forming the eastern boundary of the masterplan. Respecting tradition and avoiding a conventional approach to design, Chevalier is deeply connected to the community from which it was born. The unique folding façade abstracts the escarpment and the motion of the sun. This language is depicted in the vertical and horizontal bands interwoven to create an expression of movement and depth.
---
Chevalier forms both a street edge and park edge, and is legibly divided into three horizontal zones. At its base, terrace apartments of two levels allow an articulated and strong domestic scale which draws from the masonry materiality of the surrounding suburbs and Tramsheds. Reflecting the apartment typologies and responding to site conditions and adjacencies, the middle façade component is composed as two halves: the street side and the rear private balcony zone reflecting the specific requirements of the divergent orientations. The park side of the building is more open to capture views of the park.
Angling of certain solid walls creates a dialogue with the cliff face and creates an interplay of shadows on the façade. The upper component of the building is set back from the street, the metal cladding introduced on the north end of the building is carried to the upper levels to form the feature mansard roof. The feature mansard roof and terrace bay windows details were without local construction precedent. Extensive detailing workshops and prototyping was undertaken with the roofing contractor to ensure acoustic, thermal, waterproofing and aesthetic requirements were surpassed. The result is a finely crafted building feature consistent with the high quality architecture. The choice of materials to reduce heating and cooling costs and the introduction of a green roof on Chevalier reducing the quantum of storm water run-off, reducing the urban heat sink condition and providing habitat for fauna are strong sustainability achievements.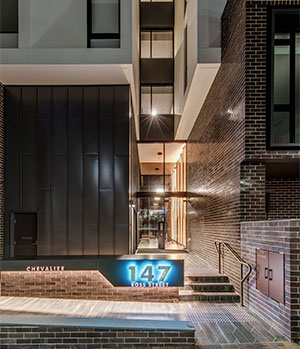 ---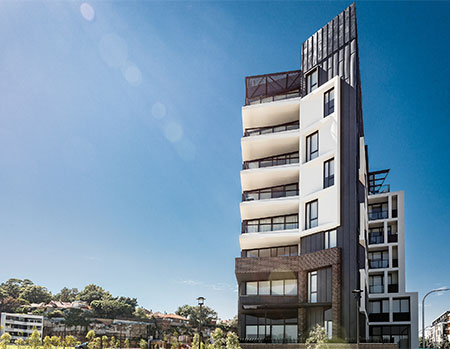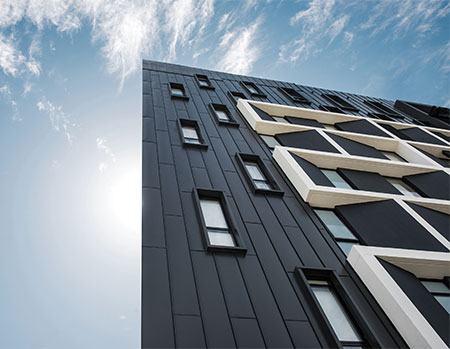 ---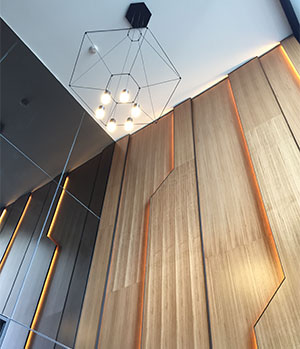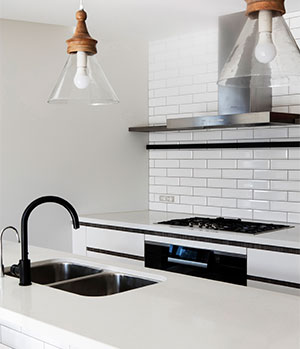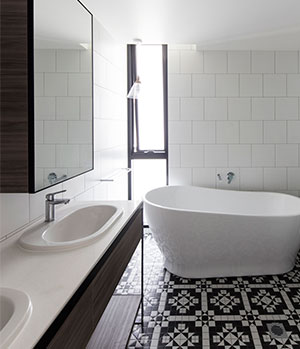 ---