---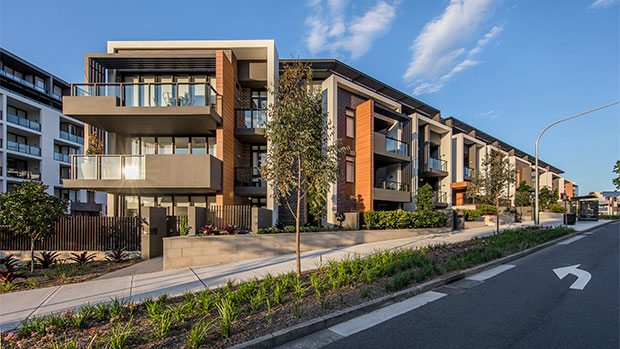 Altivolo is one of the boutique stages of the Harold Park development with a prominent corner location forming a first impression with a close connection to the existing terrace homes.
The design concept for the building focuses on the importance of integration with the landscape and creating a streetscape with the same language as a 19th Century Terrace home.
The built form consists of a courtyard apartment design opening towards the north east surrounding a central communal courtyard. The courtyard provides a high quality landscaped environment and outlook for residents and has a direct visual connection from the street entry through the lobbies.
---
Ranging in height from five storeys stepping down to three storeys towards Wigram Road, the building relates appropriately with the adjacent terrace houses. Altivolo constitutes a mix of studio, 1, 2 and 3 bedroom apartments providing a range of housing choice, creating opportunities for unique apartments design in the u-shaped floorplate.
The upper level is setback to minimise visual impact to surrounding neighbours and the public domain, and dark recessive colours and materials to the upper level minimise the visibility of roof forms and associated plant structures.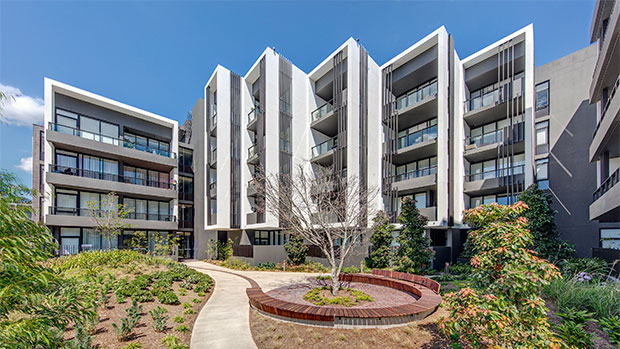 ---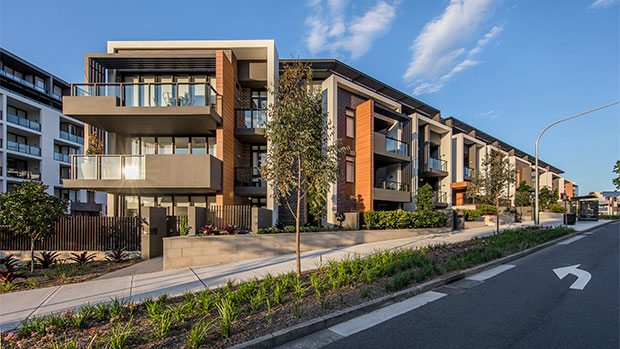 A vertical rhythm reinforces the subdivision pattern of the existing townhouses adjacent. The building façades facing the main street frontages are articulated into smaller distinctive vertical elements by using portal frame features, at a scale and fine grain that is reminiscent of the terrace house archetype. The building is designed to face the street and enhances the public domain through residential entrances, high quality materials and well resolved architectural design. Its contemporary edge is softened by the use of stone materials at lower levels, a meaningful reflection of the escarpment that forms Harold Park's natural boundary.
---
Altivolo responds formally to a number of diverse criteria, particularly with respect to scale, context and built form. Building aesthetics for the proposed development respond to a number of specific requirements and desires including the use of sandstone at the lower levels, the use of 'natural' and robust materials which are long lasting and weather naturally, in particular face brickwork, and concrete.
Living areas of units and outdoor spaces are orientated where possible to maximise solar access, augmented by design initiatives such as skylights, through apartments and louvered blade walls.
The landscape proposal for this development provides amenity for residents and the general public as well as following standard guidelines for best practice initiatives. A communal courtyard on Level 1 provides a break out space area for residents. The design has been conscious of its appearance as a strong graphic when viewed from the apartments above, and provides a sense of intimacy and privacy with broad leaved plants creating a lush garden and beautiful outlook.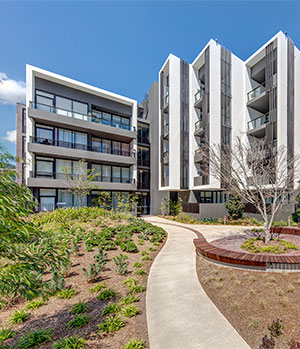 ---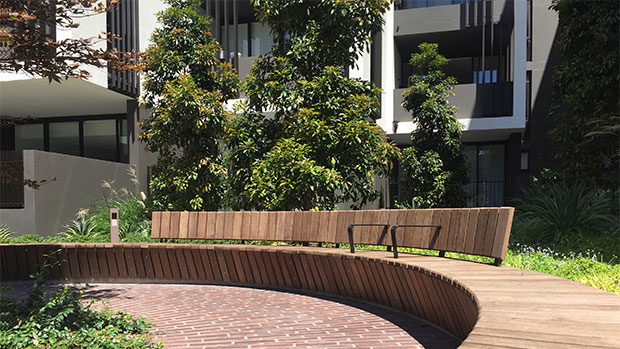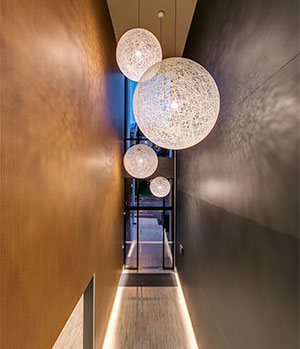 ---